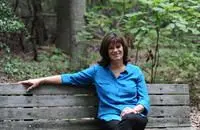 I am a psychotherapist specializing in individual, couple and family therapy, with adolescents and adults. I maintain a private practice in Annapolis. My theoretical orientation is largely rooted in AEDP, a model which is healing oriented and transformation based. It is designed to help you achieve lasting change as quickly as possible through accessing and processing emotion, shedding self-limiting defenses and realizing your best self, your authentic self, the person you were meant to be!

As an AEDP therapist ( certified 5/2019) , I believe that everyone inherently has within them the ability to realize their potential. New developments in neuroscience confirm we are programmed for growth! Life is challenging and often early in our lives we learn to compromise ourselves in order to please others, create emotional or physical safety, "fit in," and cope with other hardships. We find a way to survive difficulty, which is remarkable! However, in the process we become disconnected from part of ourselves. Later on, these compromises have become outmoded and create pain and limitations of their own. We feel alone with these issues and often feel depressed, anxious, and shameful because we can't get out of our own way. We are consumed with negative self-talk. While we function in our daily lives, we also know life can be better and we long for that.

Depression, anxiety, PTSD, toxic feelings (like shame), grief and loss, relationship conflicts, loneliness, life changes, indecision, performance issues, impulsivity . . . we all struggle with something; it is part of the human condition. And at times, it is more than we can manage on our own. Let's collaborate on a mission to understand what is troubling you and identify the steps you may take toward realizing the life you envision. As your therapist, I will listen, but also will actively participate in a conversation about you and what matters most to you. Acceptance and empathy, along with the encouragement and guidance to grow, are the cornerstones of my practice.

I have over thirty years of experience in helping people in a variety of settings, both inpatient and outpatient. I have been privileged to help many individuals and couples on their journey to a more satisfactory life. It gives me great pleasure to see the transformation in my clients and the joy they experience as a result of their effort in therapy.
Relationships are central to our happiness. We all are hard wired to desire connection. When our primary relationships feel empty or are conflict-ridden it takes a toll on our functioning. Couple therapy informed by AEDP, helps couples repair injuries and create the bond in their relationship that is essential to having a secure, loving, and mutually gratifying relationship.
Professional License: LCSW-C, Maryland
Education: Georgetown University, B.S. Psychology, Magnum Cum Laude, Phi Beta Kappa
Catholic University, NCSSS, MSW, Summa Cum Laude
Professional Coursework Training:
Accelerated Experiential Dynamic Psychotherapy: Certified AEDP Therapist 5/20
Immersion Course 2014- Healing at the Edge of Transformational Experience 32.5 hours
AEDP Essential Skills Level 1 2014-2015 82.50 hours
AEDP Essential Skills Level 2 2015-2016 82.50 hours
AEDP Core training 80 hours 2016-2017
AEDP Group Supervision and Individual Supervision 2016-2019
AEDP Couples Hybrid immersion 40 hours June 2017
AEDP Couples Core Training 80 hours 2017-2018
AEDP Theory&Practice of AEDP/Affective Change Mechanisms Course, 26 hours, D. Fosha
Professional coursework:
Emotionally Focused Couple Therapy: Advanced Training Designation (Individual and Group Course Work) in EFT
Integrative Somatic Trauma Therapy Certificate Program: Certificate of Completion, 1/26/22, 60 hours, through the Embody Lab
Professional Memberships: National Association of Social Workers
Accelerated Experiential Dynamic Psychotherapy Institute
International Center for Excellence in Emotionally Focused Therapy
Dawn K. Morgan, LCSW-C, LLC

Clinical Social Work/Therapist