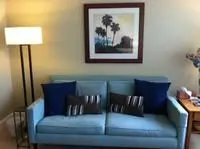 The experience of therapy is a very personal and individual matter. Sometimes we like to have a window into what the experience is like for others. This is what some of my clients said when asked to share their thoughts for your benefit.

Hope instills faith, faith enables trust, and trust facilitates healing. Dawn's compassionate presence and intuitive approach in therapy gave me that hope, faith, and trust. Together we healed the shadows of my life, freeing me to live lightly, lovingly, in the present. . . . Someone has to have a vision for your best life. If it's a total stranger, so what? If it's a therapist, all the better. If the therapist is Dawn, consider yourself blessed. Kate, 64 y.o.

Dawn has provided me with a warm, safe, nonjudgmental environment in which I have been willing to explore elements of my character in a way I have never done before. She is empathic and nurturing and yet has not allowed me to stagnate in what has been a long and often painful process of self-discovery. Perhaps the greatest gift I've received from her is the permission to be human, a gift I haven't allowed myself because it means admission of imperfection, flaws, and wrong decisions. And perhaps the best recommendation I can give of Dawn is that if she were not my therapist, I would want her to be my friend. Alise, 49 y.o.

Dawn is excellent, really. She does a great job leaving plenty of rrom to just talk, while not forcing you to sit in silence if you don't know what to say. Talking with her always feels like a real conversaiton, rather than an "appointment" and that has gone a long way in helping me feel comfortable. She always encourages me to take steps, but never pushes me into them and I've never sensed even a hint of judgement. Quite the opposite. Tom, 28 y.o.

I have been a client of Dawn Staniszewski for several months now. She was strongly recommended by a friend who is also a client, and I am delighted with the progress Dawn and I have made together. She is an outstanding listener--compassionate, empathic, and patient. She quickly earned my trust and respect, and together we have succeeded in getting me to trust and respect myself. She has gently introduced a few key insights along the way, at just the right time, that taught me a great deal about myself. She has helped me value and bring out the compassion I feel for others, and turn that compassion inward. Thanks to my sessions with her I am calmer, more thoughtful, and more positive--about myself, as well as in my interactions with those close to me, with friends and acquaintances, and even with the strangers that I meet every day. I recommend her without hesitation. Gentleman 73 y.o.
Dawn is simply an outstanding therapist! Her warmth, kindness, and compassionate spirit put me immediately at ease during the first weeks of therapy. In establishing an open, trusting, non-judmental relationship, I was finally able and ready to explore areas of my life in which I felt "stuck," along with successfully dealing iwht pain with pain from a more recent family trauma. Dawn encouraged me with extraordinary patience, to fully explore painful experiences in my past. It felt cathartic and actually wonderful to finally work through strong, buried emottions related to unresolved hurts and conflicts . . .to truly heal, growing in a compassionate undertatding of myself. This "letting go"of painful powerful elements of my past, a healing form within has given me a "lightness of spirit." Dawn's training as amn AEDP thearpist was tremendoiusly helpful. Due to her gentle, expert guidance I am now living a more authentic, joyful life . . . more "real" and in tune with my felings then ever before. I will be forever grateful for the way in which my "partnership" with Dawn has allowed me to grow in self-awareness, emotional connectedness, love, peacefulness, true forgiveness, and acceptance (of myself and others). Her many extraordinatry gifts as a therapist guided me to an unburdened, healthier, happier mindset and life! Ellen, 48 y.o.
Dawn was instrumental in helping me navigate through a particularly difficult period of my life. I was facing major challenges both personally (marriage, depression) and professionally, and Dawn had the experience, empathy and insight that worked for me. She also has a trusted network of other resources (for example, Nancy Wheeler, MD) that make you feel you have a team covering your back. I know many people are reluctant and skeptical about what therapy can do for you, but you will feel immediately at ease with Dawn's warmth, intelligence, and sense of humor. Therapy can change your life for the better---am I am a living example of how you can thrive after what can seem like unsurmountable barriers at the time! Warren, now 65 years young.
Can you imagine spending half a century feeling inadequate, unfulfilled, and manipulated? That's a lot of lost time. Dawn helped me shed a personality created by past circumstances, so I could uncover what I really wanted out of life. Sometimes it was hard. Sometimes it was painful. But as it turned out, it was easier to get there than I thought it would be. Of course, there are still ups and downs because that's how life is. So, I use the tools Dawn helped me develop to get back on track. I suppose one day I will stop being surprised at the positive outcomes I find myself achieving and just embrace them as a normal part of my happy life. I only wish I had taken this step sooner. Donna, age 54